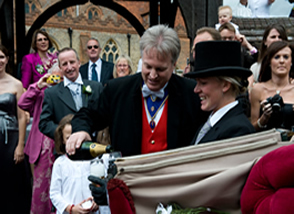 English Toastmaster pouring champagne for
the Bride and Groom at Great Baddow Church, Essex.
Photograph courtesy of Essex wedding photographer
David Court www.courtoncamera.co.uk
About Our Wedding Toastmaster in Florida
trained to perfection just for you

Florida
Barry lives in Florida, USA and decided to formalise his training in the UK with The English Toastmasters Association. Barry will be pleased to offer you his professional services as your wedding toastmaster or for any type of event or function, as this is a unique service in Florida, Barry will add a touch of English charm to your special day. Barry has worked with the public for most of his working career and has a vast amount experience in protocol and diplomacy. All of this combined means he has a passion to make sure everything is done to your complete satisfaction. Barry is certain to enhance your day and fulfil all of your requirements which will make your special day extra special!!
Contact Details
3750 Liberty Hill Drive, Clermont, Florida, USA, FL 34711
HOME (001-44) 352-243-9453 - MOBILE (001-44) 863-256-6097
email - barrygilden1@aol.com
UK based members of The English Toastmasters Association
Listed below are the members of The English Toastmasters Association in the order in which they joined. You are welcome to contact any of our toastmasters directly.
Hire a toastmaster for your wedding or special occasion.
A Founder Member of the English Toastmasters Association, Richard who lives in Chelmsford, Essex, England UK offers a great deal more than just Toast mastering... If you want the best reactions from your guests and to be pampered on your special day, Richard is the man for you. Richard is a highly client focused wedding toastmaster, which means that if you are a bride looking for a toastmaster to make you feel really special on your wedding day, he will be the the right choice for you.

Linda Palmer

A Founder Member of the English Toastmasters Association with over 15 years experience of organising and running functions, Linda, who lives in Chelmsford, Essex, England, UK will give you the confidence that your function will run smoothly. With Linda as your wedding toastmaster you can relax and enjoy your day...

Russell Rainger

A Founder Member of the English Toastmasters Association, and as your wedding toastmaster Russell, has the skills and know-how to work with you to ensure that your function is meticulously planned and executed. Russell lives in Suffolk, England, UK.

John Quinton Navvaro

John, who lives in St. Albans, Hertfordshire, England, UK, has a real passion for helping people as your wedding toastmaster John would love to give you the opportunity of experiencing his help and expertise on your special day. John has been involved with Round Table and 41 Club for a number of years, this is an organisation that is always looking at helping others and he would like to continue this by way of making your special day more relaxed and enjoyable, knowing you can call on him to do what ever you would like help with.

Terry Hughes

Terry lives in Poole, Dorset, England, UK, and will travel across the South West region of England to be your toastmaster/master of ceremonies, as far as Devon and Cornwall in the West, and Sussex in the East. A new modern breed of wedding toastmasters is evolving, encompassing traditional protocols and etiquette, with a more modern personal level of service and attention to clients. Terry is proud to be part of this evolution and is confident you will be very pleasantly surprised.

Geoffrey Cornwell

Geoff lives in Wivelsfield Green, Haywards Heath, West Sussex, England, UK and will be pleased to offer you excellent quality services for you as your wedding toastmaster or for any type of function. Geoff is a very approachable toastmaster who fully understands quality service. If you want to be made to feel special and know that you are in excellent experienced hands, please give him a call. He is based in Sussex but will be pleased to travel anywhere and is very close to Kent, Surrey, Middlesex and Hampshire

Roy Timms

Roy lives in Bicester, Oxfordshire, England, UK and will be pleased to look after your every need whatever type of function you are having. Roy will add that extra touch of class and with a smile to make you feel good, will have all your guests enjoying your event and being made to feel special. As your wedding toastmaster, Roy will ensure your special day runs smoothly and is enjoyed by all, relieving you of any pressures, knowing that your event is in experienced and capable hands. If you are holding a Ladies Festival and need a toastmaster who sings the Ladies song, Look no further, Roy will be the right choice for you.

Graham Skingley

Graham lives in Suffolk, UK and decided to formalise his training with the English Toastmasters Association to be able to offer you only the best possible service on your special day. As your wedding toastmaster, Graham will add sparkle and splendour to your occasion and as a fully qualified dance instructor Graham would be only to pleased to offer you some tips for your first dance!

Colin R Whitehead

Colin lives in Elmstead Market, Essex, UK and would be pleased to help you with the planning of your special day. As your wedding toastmaster, Colin will be on hand to guide and advise and will ensure your day runs smoothly and exactly as you wish. You can be certain all aspects of your day will be handled with exact attention to detail. If you are looking for a toastmaster for your ladies festival, Colin would be the right choice for you. As a past master of two lodges Colin has a great deal of experience and expertise and will conduct your evening professionally and ensure you get the best results.

Andrew West

Andrew lives in Poole, Dorset, UK. Andrew would be pleased to assist you will the planning and preparation of your function or event to ensure on the day it runs smoothly and exactly as you wish. Andrew is sure to enhance any occasion with his professional expertise and professionalism. You a can expect the highest level of care and attention throughout. When you choose Andrew as your wedding toastmaster you can be certain you are in safe and capable hands.

Stephen Gregory

Stephen lives in Stambourne, Essex, UK and is a professional toastmaster with a modern approach combined with traditional values As your wedding toastmaster Stephen will add a touch of elegance and formality to your special day or event. Stephen will be pleased to assist you with your planning and preparation and is on hand to advise you on all aspects of etiquette and protocol. You can be assured Stephen will take care of you and your guests with exact attention to detail.

Brian Crockett

Brian has been a member of Toastmasters International for many years, where his level of expertise has meant he has achieved the awards of Advanced Communicator and Leader. He has won both International and Humours Speech competitions. As your wedding toastmaster Brian will turn your wishes into reality and will guide you and your guests through your most special day and liaise with all your service providers on the day, to maximise your enjoyment and make your day runs without a hitch. Brian is based in the West Midlands all year round but also covers the Murcia area of southern Spain and South Africa during the summer months of September through to March.

Roger Holmes

Roger lives in Ventnor, Isle of Wight, England, UK and has been involved in overseeing functions and compering shows for around 30 years. Being a toastmaster is a natural progression from this work and the love Roger has for looking after his clients and making sure that they get the day of their dreams is evident. Roger has a relaxed and friendly style but takes his work very seriously. Nothing is too much trouble for Roger because his aim and purpose is to make sure that everyone enjoys the occasion. Although Roger lives on the Isle of Wight, he is very happy to travel anywhere that his work takes him.

Roger is also an organist and a pianist and would be happy to combine these skills when working at weddings for his clients. He is also able to provide wedding entertainment and entertainment for ladies festivals with the addition of a female vocalist. In fact Roger would be an ideal choice if you are looking for a complete toastmaster and entertainment package for your function.

Although Roger is not shown at the top of this list, he has been a toastmaster for over three years and wanted to enhance his original training by joining the English Toastmasters Association. We wish him every success and are pleased to help with his career development path, bringing excellence to his clients.


Mark Wilding

Mark lives in Melksham, Wiltshire, England, UK and has a passion for helping to make your wedding day the most wonderful day of your life.

Allow Mark to take away the worries and concerns on your wedding day so that you are totally stress free. He will guide you to make sure that you have a wonderful day, with memories that you will cherish for a lifetime.

Your day should be one of the happiest of your life and Mark's passion is to make sure you are able to live your dream.

As a member of the English Toastmasters Association you can be assured that you are receiving the highest level of professionalism.

Mark's commitment to follow our Code of Ethics is your guarantee that you have a professional toastmaster to look after you and make you feel really special.

Roger Knight

With over 30 years experience in event planning, management, marketing and entertainment Roger is well suited to make sure that your event is as stress free and as well organised as it can be. Roger can guide you through all the formalities and by using his event planning experience will make sure that your event runs smoothly and professionally leaving you to actually enjoy your event and not have to worry about who is doing what.

Roger treats every function as a one off 'Special' which guarantees you an exceptional service with excellent advice presented in a professional manner. Whilst steeped in tradition, Roger also brings a fresh, modern approach to customer service and can easily adapt to suit your requirements.

Roger is based in the beautiful county of Somerset, but is more than happy to travel throughout the UK & Ireland. He will also undertake International work as well and is happy to perform his duties to people of all cultures who want to add that something 'Extra Special' to their event.

Whether it is a wedding, corporate event an international conference or any of the endless list of events that can use the services of a Toastmaster or Master of Ceremonies, you can be assured of an excellent, professional, flexible and friendly service.

Allen Stockel
Allen will be pleased to ensure that your wedding day or special event is a truly memorable occasion.

Allen is a kind gentleman who brings charm and sophistication to your special day. He will make you and your guests feel relaxed with his cheerful manner.

He will make you feel special and well cared for with everything running just the way that you want.


Brian Scales

Brian lives in Honiton, Devon and has been involved with Masonic Ladies' Festivals for 25 years. Having been through the Chair several times and currently holding London Grand Rank. Brian cares passionately for his clients and will do all that he can to make your event run smoothly and be stress free.

Brian would like to help you on your Wedding Day. He will guide you to make sure that you have a wonderful day with memories that you will cherish for a lifetime.

As your toastmaster or master of ceremonies Brian will help you to make your day a truly memorable one by using his charm, expertise, experience and professionalism.

Being a member of the English Toastmasters Association means that Brian has been trained to the highest standards of client care and you will feel very safe and secure in Brian's hands.




Chris Edwards

I live in Cambridgeshire and have a passion to help make your wedding day the most wonderful day of your life and to ensure that it runs in exactly the manner you wish. I will be pleased to spend time with you to make sure that I understand how you want your day to be managed.

There are many benefits to using my services for your wedding and will be pleased to help with wedding etiquette and protocol. I will ensure that the members of your bridal party who have roles to fulfil throughout the day, do so in the right order and without embarrassment and will help everyone to enjoy their roles and have fun at the same time.

As your toastmaster or master of ceremonies I will ensure that your day will be a truly memorable one by using charm, expertise and professionalism.

Being a member of the English Toastmasters Association means that I have been trained to the highest standards of client care and you will feel very safe and secure in my hands.

Michael Sandle

Mike lives in Clacton-on-Sea, Essex and is delighted to offer you his services for planning your special day. After a full career in HM Forces which saw him conducting ancd leading displays at major public events, Mike has a wealth of experience of 'the big day'.

He will ensure that your event receives the highest level of care and attention to detail allowing you to relax, confident in the knowledge that you are in caring and professional hands.

Mike is available throughout East Anglia for all corporate, civic, formal and informal social events and is more than happy to travel further afield.
Steve Phelps

Hailing from the historic town of Llantwit Major, near Cardiff in South Wales, Steve has been involved in organising functions and looking after the needs of individuals for more than 30 years. Steve's passion in applying these skills to your special day is to ensure that you and your guests have a wonderful and memorable time.

Meticulous in his attention to detail, and trained to the highest standards demanded by the English Toastmaster Association, you may relax safe in the knowledge that your every wish is being taken care of.

It would be Steve's privilege to use his experience and professionalism to guide you and accommodate your needs, whatever they may be.

James is married and lives on Hayling Island, on the South Coast of England.


Trained by leading Toastmaster, Richard Palmer, James is a Member of the English Toastmasters Association.


Totally unflappable, James is kind, calm, well-mannered and extremely organised. He abides by the exacting standards set by the English Toastmasters Association and is proud to wear the red coat and the Association's badge.


As well as being a Toastmaster, James is a lawyer and published author, so forward planning and attention to detail are paramount in all aspects of his life.


James would be delighted to act as your very own personal assistant on your wedding day, offering you an extra special service and genuine value for money.


"As a married man, I am very much aware of the importance of your big day. It is my aim to ensure that you and your guests are made to feel special and play a part in ensuring that the biggest day of your life is full of joy and free from stress."

Florida Wedding Venues
Bahia Mar Beach Resort & Yachting Center - Wedding Venue - Florida - America
USA Buena Vista Palace - Wedding Venue - Florida - America
Casa Marina Resort - Wedding Venue - Florida - America
Continental Downtown Bayside - Port of Miami - Hotel - Florida - America
Doral Golf Resort & Spa - Honeymoon Resort - Florida - America
Doubletree Guest Suites Naples Florida - Wedding Venue - Florida - America
Firemens Benevolent Association Hall - Wedding Venue - Florida - America
Fort Lauderdale Grande - Wedding Venue - Florida - America
Four Points by Sheraton Cocoa Beach - Wedding Venue - Florida - America
Four Points by Sheraton Destin-Fort Walton Beach - Wedding Venue - Florida - America
Four Points by Sheraton Jacksonville Baymeadows - Wedding Venue - Florida - America
Four Points by Sheraton Miami Beach - Wedding Venue - Florida - America
Four Points by Sheraton Orlando Studio City - Wedding Venue - Florida - America
Four Points by Sheraton Sebring - Château Élan - Wedding Venue - Florida - America
Four Points by Sheraton Tallahassee North - Wedding Venue - Florida - America
Four Seasons Hotel Miami. - Wedding Venue - Florida - America
Grand Bay - Coconut Grove - Wedding Venue - Florida - America
Hampton Inn & Suites Fort Myers-Colonial Blvd. - Wedding Venue - Florida - America
Hampton Inn Ft. Myers-Airport I-75 - Wedding Venue - Florida - America
Hilton Cocoa Beach Oceanfront - Wedding Venue - Florida - America
Hilton Miami Downtown - Wedding Venue - Florida - America
Hyatt Coconut Plantation - A Hyatt Vacation Club Resort - Florida - America
Hyatt Pier 66 - Wedding Venue - Florida - America
Hyatt Regency Clearwater Beach Resort & Spa - Wedding Venue - Florida - America
Hyatt Regency Coconut Point Resort & Spa - Wedding Venue - Florida - America
Intercontinental Miami - Wedding Venue - Florida - America
Lake House - Wedding Venue - Florida - America
Le Méridien Sunny Isles Beach - Wedding Venue - Florida - America
Miami Beach Resort & Spa - Wedding Venue - Florida - America
Pink Shell Beach Resort & Spa - Wedding Venue - Florida - America
Sheraton Beach Resort Key Largo - Wedding Venue - Florida - America
Sheraton Fort Lauderdale Airport Hotel - Wedding Venue - Florida - America
Sheraton Jacksonville Hotel - Wedding Venue - Florida - America
Sheraton Orlando - Downtown Hotel - Wedding Venue - Florida - America
Sheraton Orlando North Hotel - Wedding Venue - Florida - America
Sheraton PGA Vacation Resort - Port St. Lucie - Florida - Wedding Venue - Florida - Florida - America
Sheraton Safari Hotel & Suites Lake Buena Vista - Wedding Venue - Florida - America
Sheraton Sand Key Resort - Wedding Venue - Florida - America
Sheraton Suites Cypress Creek Ft. Lauderdale - Wedding Venue - Florida - America
Sheraton Suites Key West - Wedding Venue - Florida - America
Sheraton Suites Orlando Airport - Wedding Venue - Florida - America
Sheraton Suites Plantation - Ft. Lauderdale West - Wedding Venue - Florida - America
Sheraton Suites Tampa Airport Westshore - Wedding Venue - Florida - America
Sheraton Tampa Riverwalk Hotel - Wedding Venue - Florida - America
Sheraton Vistana Resort - Lake Buena Vista - Wedding Venue - Florida - America
Sheraton Vistana Villages - International Drive - Wedding Venue - Florida - America
Sheraton Yankee Clipper Hotel - Wedding Venue - Florida - America
Sunset Key Guest Cottages - A Westin Resort - Wedding Venue - A Westin Resort - Florida - America
The Atlantic Resort & Spa - Fort Lauderdale - Wedding Venue - Florida - America
The Diplomat Golf Resort & Spa - Hallandale Beach - Wedding Venue - Florida - America
The Reach Resort - Wedding Venue - Florida - America
The Regent Bal Harbour - Wedding Venue - The Regent Bal Harbour - Florida - America
The Resort at Singer Island - Florida - Wedding Venue - Florida - America
The Westin Beach Resort - Fort Lauderdale - Wedding Venue - Florida - America
The Westin Colonnade - Coral Gables - Wedding Venue - Florida - America
The Westin Diplomat Resort & Spa - Hollywood - Florida - Wedding Venue - Florida - Florida - America
The Westin Fort Lauderdale - Wedding Venue - Florida - America
The Westin Imagine Orlando - Wedding Venue - Florida - America
The Westin Key West Resort & Marina - Wedding Venue - Florida - America
The Westin Tampa Harbour Island - Wedding Venue - Florida - America
Walt Disney World Dolphin - Wedding Venue - Florida - America
Walt Disney World Swan - Wedding Venue - Florida - America
Yacht Harbor Inn - Wedding Venue - Florida - America